Neighborhood Events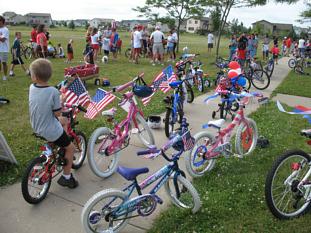 Unfortunately, we no longer have a social committee to plan our neighborhood activities. In the past, we held many popular events throughout the year. We would love for the tradition to continue, but we can't make it happen without your help!
If you are intersted in helping to plan our events, please consider joining the Social Committee. Please Click Here to contact us.
Here are some of our past CGNA sponsored Events:
Monster Bash
This is one of our most looked forward to, and best attended activities. Joins us for a spooktacular Halloween party held each year in October. This event is held in association with the Ice Age Ridge and Glacier Crossing neighborhoods.
Hibernation Celebration
Escape winter and meet your neighbors at this annual celebration. Help beat the winter blues by enjoying some food and conversation with people from our neighborhood. This is one of our most popular events.
Holiday Home Decorating Contest
Win a fabulous prize just by decorating your house. Each year in December, we honor three Country Grove households for their decorating efforts. Have boasting rights for the whole year. Remember, if you need more power for your display, it is not nice to run an extension cord to your neighbor's house. You must be a member of CGNA in order to win.
CGNA Neighborhood Garage Sale
Each May, Country Grove holds a neighborhood garage sale. It's a great way to get rid of some junk and turn it into cash. The Garage Sale is always held the Saturday after Mother's Day.
Red, Bike and Blue Parade
Every 4th of July, our neighborhood shows its patriotism by having a parade. The parade begins at the park and routes throughout Country Grove. Kids deck-out their bikes, wagons, stollers and just about everything else to celebrate America's birthday. If you don't want to participate in the parade, come on out to cheer the participants on. The parade is usually led by a Madison Police car. After the parade, treats are served at the park.
CGNA Annual Meeting
The CGNA Annual Meeting is usually held each May or June. This meeting is a great way to find out about the Board activities throughout the previous year and to learn about issues that Country Grove is facing. This meeting also serves as election time for the Board. There are still open Board positions. This is your opportunity to get involved. If you would like to be part of the Board, send us an e-mail. Watch for fliers announcing our next annual meeting.

Questions? Wan't to Help?
If you have questions about any of our events or would like to help with the planning of future events, please Click Here to contact us.